Windows 10 Pro 22H2 Build 19045.2965 By SanLex [Lightweight] X64 Eng/Rus May 2023
Download Information & File Host Links
Category: Applications | Date: 05-Jun-2023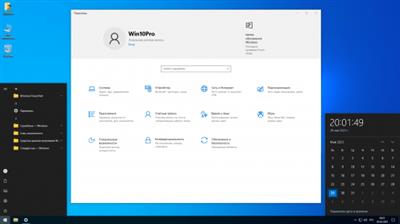 Windows 10 Pro 22H2 Build 19045.2965 by SanLex [Lightweight] x64 Eng/Rus May 2023
Windows x64 | English US/Russian | File Size: 2.52 GB
The assembly is based on the official original image Windows_10_Pro_edition_22h2_x64 for optimal and comfortable use. The purpose of this assembly is ease of use for everyday home use, business sphere and gamers. Removed, disabled or blocked unwanted apps/services/telemetry collection processes, adware, unwanted background services, and anything that negatively impacts performance, privacy, or discomfort - to the extent possible.
General Info
Windows: 10
Edition: Pro
Version: 21H2
Build: 19045.2965
Architecture: 64 bit
Author: SanLex
Language: Russian, English
File Size: 2.52 GB
Activator: Not included
CRC-32: 58580d95
MD5: acdb204f7e5bdae47679828c5d82e3af
SHA-1: 60f7fade5130d2c3903f1cfc3dc7495a8d7843d7
SHA-256: 5480c54aaeeacdd29d12ca906c015049501fcc6c8048c6930738a3c083570781
System Requirements
• Processor: at least 1 GHz or SoC
• RAM: 1 GB for 32-bit system or 2 GB for 64-bit system
• Hard disk space: 16 GB for 32-bit OS or 20 GB for 64-bit OS
• Video adapter: DirectX 9 or later with WDDM 1.0 driver
• Screen: 800 x 600
Removed
• OneDrive
• Application People
• Map application
• Microsoft Edge browser
• All Metro apps + Microsoft Store
• Cortana - voice assistant (search works by default)
• Xbox Apps (those who wish can restore core Xbox apps from the Microsoft Store)
• Restore the Microsoft Store: run "Command Prompt as Administrator", type or paste the wsreset -i command , press the "Enter" key, wait for the process to finish ~ + - 1 minute (we install additional applications from the Microsoft store)
Enabled/Installed
• Calculator Windows 7 (original)[Multi/Ru]
• Net Framework 3.5, (includes Net 2.0 and 3.5)
• Cleanmgr+ "disk cleanup" in the path: Start Menu > Windows Administrative Tools
• Photo viewer "Windows Photo Viewer" as on Windows 7, 8.1 (default)
What's New
• VP9 video and HEVC/H.265 extensions (default)
• Minor wishes of users are taken into account (within reason)
• Maximum level of privacy (no spying, no ads)
• More targeted work of blocking telemetry, unsafe services, processes
• Optimal settings for installing future updates through "Windows Update"
• Installed all the latest security updates from Microsoft at the time of publication of the release
• Improved visual perception to the extent possible (installation of the video driver is mandatory)
• The 2023 project can be considered completed, as everything that could be improved, corrected, modernized
• In the "User profiles" > "Unknown account" section, which can now be deleted after installing the assembly without consequences for the system
• This build replaces all previous releases of "Windows 10 Pro by SanLex" (performance improvements, optimizations, anti-telemetry, security)
Homepage
:
https://www.microsoft.com/
Download link
:
:
:
1dl.net
:
https://1dl.net/9if8q95l0y1c/tmket.Windows.10.Pro.22H2.Build.19045.2965.by.SanLex.Lightweight.x64.EngRus.May.2023.part1.rar
https://1dl.net/i74k7qeik924/tmket.Windows.10.Pro.22H2.Build.19045.2965.by.SanLex.Lightweight.x64.EngRus.May.2023.part2.rar
https://1dl.net/hc0e6g60nlao/tmket.Windows.10.Pro.22H2.Build.19045.2965.by.SanLex.Lightweight.x64.EngRus.May.2023.part3.rar
Windows 10 Pro 22H2 Build 19045.2965 By SanLex [Lightweight] X64 Eng/Rus May 2023
Premium Download Link Available
Category: Applications | Date: 05-Jun-2023