Oral Allergy Syndrome: Living And Cooking With Oas
Download Information & File Host Links
Category: Tutorials | Date: 19-Mar-2023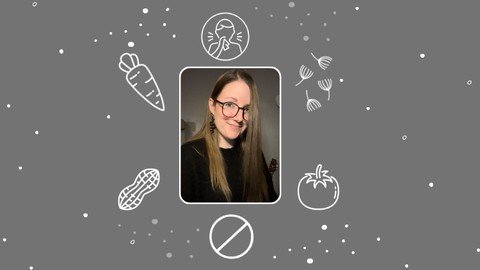 Published 3/2023
MP4 | Video: h264, 1280x720 | Audio: AAC, 44.1 KHz
Language: English | Size: 296.65 MB | Duration: 0h 31mThe Ultimate Beginners Guide To Understanding, Managing, and Thriving with Oral Allergy Syndrome (OAS).
What you'll learn
Understand what Oral Allergy Syndrome is, its causes, symptoms, and the relationship with pollen allergies.
Learn coping mechanisms for anxiety and stress related to food allergies and the challenges of living with Oral Allergy Syndrome.
Explore lifestyle changes that can be made to effectively manage symptoms of Oral Allergy Syndrome, including social situations, travel, and dining out.
Debunk common misconceptions and myths about food allergies.
Requirements
This course is for anyone who wants to understand more about Oral Allergy Syndrome.
Description
Oral Allergy Syndrome (OAS) is a condition that affects many people with allergies, causing them to experience a range of symptoms when they eat certain foods. If you or someone you know is living with OAS, this course will provide you with the knowledge and skills you need to manage your condition and enjoy a healthy and fulfilling lifestyle and diet.In this comprehensive online course, you'll learn about the causes, symptoms, and triggers of OAS, and discover which foods to avoid and which are safe to eat. You'll also learn about cooking techniques and recipes that are safe for people with OAS, and get tips on how to avoid cross-contamination and read ingredient labels.In addition, this course will cover strategies for managing social situations, travel, and dining out with OAS, as well as coping with anxiety and stress related to your food allergies. You'll learn about medical treatment options, including allergy shots and immunotherapy, and get insight on where to get expert advice and resources to help you manage your condition.By the end of this course, you'll have a full understanding of OAS and the tools you need to manage your symptoms to enjoy a healthy, varied diet. Whether you're living with OAS yourself or supporting someone who is, this course will help you navigate the challenges of food allergies and live a happy, healthy life.
Overview
Section 1: Introduction To Oral Allergy Syndrome
Lecture 1 What is OAS?
Lecture 2 Symptoms & Causes
Lecture 3 Relation To Other Allergies
Section 2: Foods To Avoid
Lecture 4 List Of Foods To Avoid Or Limit
Lecture 5 Tips For Reading Ingredient Labels
Lecture 6 Cross-Contamination Avoidance
Section 3: Safe Foods And Substitutes
Lecture 7 List Of Safe Foods For People With OAS
Section 4: Cooking Techniques And Recipes
Lecture 8 Tips For Cooking And Preparing Foods For People With OAS
Section 5: Lifestyle Changes For Managing OAS
Lecture 9 Strategies For Navigating Social Situations And Dining Out
Lecture 10 Tips For Travelling With OAS
Section 6: Treatment Options
Lecture 11 Overview Of Medical Treatment Options, Including Immunotherapy
Lecture 12 Coping With Anxiety And Stress Related To Food Allergies
Lecture 13 Take 5 Minutes To Breathe
Section 7: Common Misconceptions About Food Allergies
Lecture 14 Myths And Misunderstandings Surrounding OAS And Food Allergies
Section 8: Additional Resources For OAS Support
Lecture 15 Additional Tips For Avoiding Cross-Reactive Foods
Lecture 16 Websites, Books, And Support Groups
Section 9: Summary
Lecture 17 Summary
Lecture 18 You Can Do This
This course is designed for anyone who wants to learn more about oral allergy syndrome, whether you have been recently diagnosed or have been managing it for a while. It is also suitable for anyone who wants to better understand food allergies and how they can impact daily life. Whether you are a healthcare professional, a caregiver, or simply someone who wants to expand their knowledge and learn new strategies for managing OAS, this course is for you.
Homepage
https://www.udemy.com/course/oral-allergy-syndrome-guide/
Download From 1DL
https://1dl.net/d8was8ytc6fq
Oral Allergy Syndrome: Living And Cooking With Oas
Premium Download Link Available
Category: Tutorials | Date: 19-Mar-2023