Download Information & File Host Links
Category: Applications | Date: 25-Jan-2023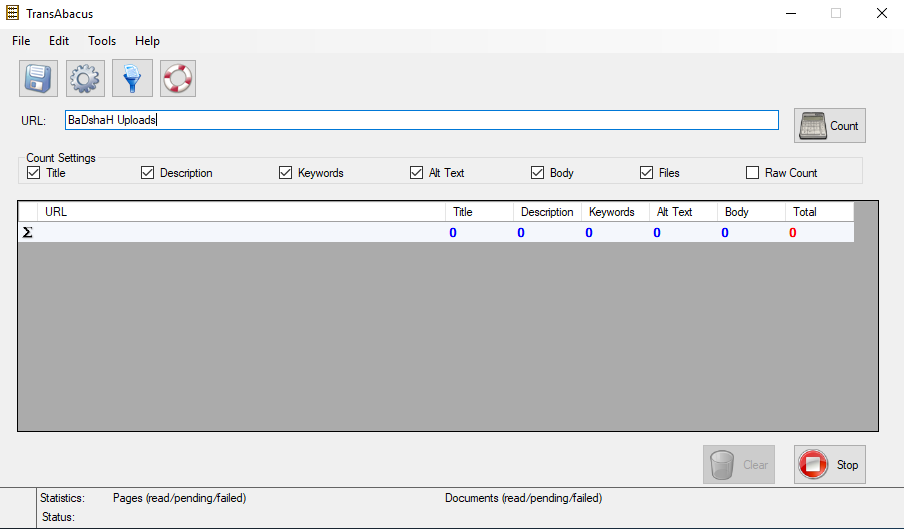 File size: 6.4 MB
TransAbacus is an essential tool for translators to estimate and budget web site translation or localization projects.
TransAbacus gets a website address or URL and returns the list of pages on the site, with the number of words for each one. Optionally, the user can also get the number of words in title, alt text and meta-tags (whose translation is as important as the body translation because several search engines use them to accurately index the web page, but unfortunately they are generally not considered at estimation time). Additionally, TransAbacus counts the words in text files linked by the URL (the current version of TransAbacus counts the words for .pdf, .txt and .rtf files)
FULL WORD COUNTING
TransAbacus does not only count the amount of words in the body of a web page, but also counts the words for title, meta tags and alt text. You can switch on/off these options in the main window.
LINKED FILES WORD COUNTING
TransAbacus counts the files attached to a web page. Current version of TransAbacus supports .pdf, .txt and .rtf file counting.
SEVERAL COUNTING OPTIONS
TransAbacus has the ability to ignore repeated sentences (strings finished with dot). This option can be switched on/off in the main window, and it's of great use for those professionals who use computer-assisted translation (CAT) tools, like Trados. Our product offers more counting options, like counting numeric strings as words.
FILTER THE WEBSITE YOU ARE COUNTING
Sometimes you don't need to count a whole website, you only need to count a subset of it. With the filter functionality, you can tell TransAbacus the URL patterns to exclude and/or include during the counting process. This function is very useful when counting multilingual sites (you don't need to count the pages in every language; you only need the word count for one language only, so you can exclude the others), or when you know the site you are counting has a lot of content that will not be translated (for example, you can exclude the pages with photo galleries).
Whats New:
* Accepts compressed content from the server when downloading files
HOMEPAGE
https://www.transabacus.com/
Download From 1DL
https://1dl.net/u64kphfo93n5
Premium Download Link Available
Category: Applications | Date: 25-Jan-2023